Tussin Up Web archive | Contents |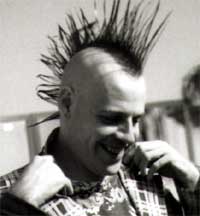 From 1985 until his untimely death in 1990 (I believe) my friend Steve Millen produced the occasional, and always hilarious, humor 'zine called "Tussin Up". After a few requests, I've decided to scan and post all of the Tussins I have as a sort of memorial to Steve. Extra special thanks to Kate Matthew of San Francisco for immediately sending me the two missing issues, #2 and #4! Let's hear it for Kate! She was involved in one of the other great Bloomington 'zines, Mickey's Pink Butthole, which I'm also considering archiving. She publishes her own comic 'zine, "Stinkin' Happy", whch is pretty damn great. You can reach her here.
Feel free to contact me if you have questions about his material. There may or may not have been a posthumous issue published after #10 - I was told that Steve had some boards pasted up but I never saw a copy. If you know the story on this, please let me know!
UPDATE (2003): so far it seems unlikely that this is true. More info is welcome, however!
The zines are hosted as single-page image files in three sizes: thumbnail, larger, and original size. The originals I'm posting are a shade under 1200 pixels wide and weigh in at around 300k. The largest-scale images should be suitable for printing.
UPDATE (2015): in 2015 I was contacted by a Dutch academic interested in obtaining the scan set as a part of his PhD research materials in PDF form. I hadn't ever cast the files in that format but did supply him with the imageset. He kindly sent it back in PDFs and I have added them to the archive, linked below. Here's a link to the whole archive as PDFs in a zipfile, about 70mb.
At the moment I won't offer commentary, context, or credits on the zines - I figure if you were there, you know as much as I do. If you weren't it's not at all unlikely that the people lampooned herein appreciate their privacy.
I once wrote and drew a comic called The Unexpected Beret which features a narrator based on Steve. I finished it just as I heard of his death, so he never had a chance to see it. I think he'd have enjoyed it. I hope you enjoy Steve's sense of humor as much as I did growing up.
Mike Whybark
March 2002
September 2015
Detailed issue contents | Intro |
Since these are essentially just scans of the zines, you may appreciate a quick rundown of just what kinds of shenanigans Steve was up to in each issue. The descriptions below, where possible, are taken from "Back Issues" descriptions that appear in some of the zines.
Tussin Up #1 (PDF)
(March '85)


Poor Trudy begins the cover tradition, Top Ten on My Walkman, the infamous fake show ad, comix, "Surpressed" MRR scene report, "Dune" review, the first Killing Joke.

Tussin Up #2 (PDF)
(April '85 second big issue!)

Party reviews, gore movie reviews, Bill E. Goat interview part 1, Killing Joke: B'ton City Council buys Brooklyn Bridge from Westinghouse (Incinerator EPA Consent Decree).

Tussin Up #3 (PDF)
(May '85 "barely")

Crevo stuff, Top Ten on My Walkman, comix, Tussen-Up Party Reviews, Art Opening Reviews, conclusion to Bill E. Goat interview, Tussen Turtle manifesto (hilarious), Erotic Stick Figures, cover for issue that never was.

Tussin Up #4 (PDF)
(Summer '86: The return of...)

Hardcore & in Bed by 11 (1986 Scene Report); record, party, bad beer & art show reviews; CIA/Tussin Up Bloomington Sabotage manual in lieu of Killing Joke.

Tussin Up #5 (PDF)
(Spring '87. Special "Just Say No" issue: "Please, no issue!")

Newspaper clippings, including the bowling ball happy ad, an advice columnist on John Hinckley, and a parody of the "Freedomgram"; Tussin-Up reviews the world's great religions; Why I HATE the Grateful Dead; Andy Warhol Drops Dead; Art Police ticket; comix; Evangelical Report; Movie Reviews

Tussin Up #6 (PDF)
(Summer, '87. Special South Side of the Square Punk Rock Revival issue)

Letters, T-Shirt update, Punkrock Horoscope, Punkrock Show Review (Toxic Reasons @ the Gathering), Punkrock Tourist Guide to Bloomington, Dry Farm (rehab) Reviews, Dumpster Reviews, "Night the Final Frontier" reprint, the Gab-Fly parody, Ollie North Killing Joke.

Tussin Up #7 (PDF)
(Fall, '87. Punk Rock Interview cover)

Punks get interviewed by journalism students; John Birch Society gets wise to Tussin-Up; Call the cops on lame parties; RFNR letter to the editor in Greene County; Daily Grind crossword; bogus concert ads explanation; Killing Joke: handcuffed kid "suicides" in Indy cop car.

Tussin Up #8 (PDF)
(Spring, '88. Gates of Hell: Tussin Kills. Last Poor Trudy cover)

Cough syrup implicated in murder, letter from another "anti-drug" 'zine, League of Nonvoters Candidate Survey, Nancy Reagan's star chart, Inside ROTC, the Fall of the 3-D House of Y-Bark, IDS closes all ages venue, B-ton zine reviews, Joey Z and JonNelson contributions, Bobby Knight and Ollie North, Middle East Killing Joke

Tussin Up #9 (PDF)
(Fall, '88. Hell Sent Hell Bent cover by Tussin Cat Spray)

Clippings, S. Romilar runs for Mayor, JonNelson, Maxwell Malice comic, Night of the Grateful Dead (Steve becomes 'Satan'), Truth in Advertising Section (real life classifieds), Bank ad, Letters, Stealing Joke instead of a Killing Joke.

Tussin Up #10 (PDF)
(May, '89. Tales From the Drunkside cover by Zac Burke)

Letters from Burd and JonNelson, an "i found it" note, clippings, Tussin-Update, advertising update, Marriage in Monroe County, Collins Dorm Shows, Tales from the Drunk Side, The Deadheads Talk Back, Lifetstyles of the Grateful Dead and Dying, Orange Alternative political surrealists, GHWB I Killing Joke

Tussin Up Time's Up! (PDF)
(May, '89. Best of Tussin insert for Tussin #10)

Steve reprints his favorites from four years of Tussin with commentary (worth reading). Includes "Hardcore and in Bed by Eleven" from issue 4, and also the Justice Douglas Ginsberg "piss test" insert from issue 7 which we don't otherwise have. Everything else is found in the archive.
Issue #1: MRR scene report, Anarcho-godzilla comix, erotic stick figures; Issue #4: Hardcore and in Bed by Eleven, CCAA at Culturestock; Issue #5: Bowling Ball happy ad, Tussin-Up reviews the world's great religions, Andy Warhol Drops Dead, But what about 'Please' and 'Thank You'?; Issue #6: Punkrock Tourist Guide to Bloomington, Daily Grind Crossword Puzzle; Issue #8: Fall of the 3-D House of Y-Bark; Issue #7: Reason for No Rock (Concerts), Ginsberg insert; Issue #9: Truth in Advertising Section, Mayoral potshots, Night of the Grateful Dead.

(These links are broken at the moment). Steve refers to three pranks within Tussin Up that I have paper evidence for.

First, some Indianapolis punk rockers pranked Bloomington with a flyer advertising a nonexistent show in vengeance for an ad Steve ran for a fake show in an early issue.

Second, Steve ran for mayor and I kept the invitation to his kickoff party.

Third, Steve started a long-running prank known as "Concerned Citizens Against Art"; here's the membership brochure and the original art police tickets.
COPYRIGHT INFO
Yikes, this is ugly! OK, here goes: The actual zines and layouts are (c) 1985-2002 by the estate of Steve Millen. Individual contributors retain copyright to their contributions. The website you see here is (c) 2002-2016 by Mike Whybark. If you, as a copyright holder, don't wish your content to be republished in this manner, please contact me. I sure hope you'll let me leave it up; it's a memorial for god's sake. Site created and maintained by Mike Whybark.